Worship & Music at St Bartholomew's
St Bartholomew's is Anglo-Catholic in its tradition and this is reflected in our liturgy.
The Mass (also known as the Eucharist or Holy Communion) is the single most important thing the Church does. Everything is bound up with the Mass and is oriented towards it. Christ makes himself really and truly present in the Mass and through it we are united with the Church in heaven and anticipate life eternal.
As Christians we are called to be disciples, to follow Jesus, and to proclaim the kingdom of God. But this would all be meaningless without Christ's sacrifice on the Cross and his Resurrection. Jesus gave us the Eucharist so that we would always have access to the grace of his Sacrifice. This happens whenever we join in the celebration of the Mass, whether or not we receive the Sacrament.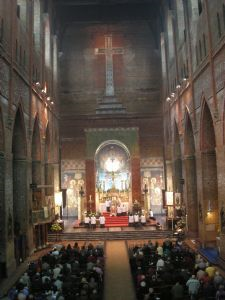 Sunday
Solemn Mass 10.30am
Wednesday
Mass 11.30am at St Paul's, West Street
Friday
Mass 11.30am at St Paul's, West Street
Saturday
Mass 11.30am at St Paul's, West Street
Choral music
St Bartholomew's is well known for its musical tradition. There is also congregational participation in hymns. We have a great canon of repertoire which complements the beautiful liturgy of St Bartholomew's.
If you would like to be involved with the music at St Bartholomew's then please contact the Director of Music.
Organ
The current organ was built in 1901 by J W Walker & Sons. Tonally, it is considered a "noble" instrument, the acoustics of the building playing an important part in the grand effect. To read more about the history and for a specification of the organ please click here.
Other services
Certain weekday solemnities are celebrated with a Sung Mass in the evening and other additional services are celebrated at other times in the year.
A monthly Requiem Mass is celebrated when we pray particularly for those who have died recently and for those whose anniversaries occur in the month.
We also celebrate baptisms, weddings and funerals. Please contact the clergy if you would like to enquire about any of these occasional offices.